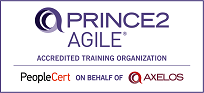 PRINCE2 Agile Practitioner
El propósito de la certificación PRINCE2 Agile Practitioner es confirmar que has adquirido una comprensión suficiente de cómo aplicar y adaptar PRINCE2 Agile en un determinado escenario. El curso empieza con una visión general de los conceptos básicos de las formas de trabajo ágiles más comunes y continúa con la capacitación para aplicar o adaptar los principios de PRINCE2 a un proyecto en un contexto Agile.
Un profesional certificado en PRINCE2 Practitioner debería ser capaz de empezar a aplicar el método en un proyecto real, aunque no podría ser suficientemente hábil para realizarlo apropiadamente en todas las situaciones. Su experiencia personal en la gestión de proyectos, la complejidad del proyecto y el apoyo brindado por el uso de PRINCE2 Agile en su entorno de trabajo, serán factores que influenciarán determinantemente en sus logros.
Objetivos
Realizando el curso PRINCE2 Agile los participantes serán capaces de:
Comprender los conceptos básicos de las formas de trabajo ágiles más comunes
Comprender el propósito y el contexto para combinar PRINCE2 con el método de trabajo Agile
Aplicar y evaluar las áreas de atención de un proyecto en un contexto ágil
Fijar y adaptar los seis aspectos de un proyecto en un contexto ágil
Aplicar o adaptar los Principios, Temas, Procesos y productos de gestión de PRINCE2 a un proyecto en un contexto Agile
Aprender mediante el uso de teoría y ejercicios prácticos
Preparar a los participantes para el examen de PRINCE2 Agile Practitioner
Destinatarios
Gestores de Proyecto y Programas que poseen la calificación PRINCE2 Practitioner en vigencia
Personal clave que participa en la integración de la gestión de proyectos con la entrega de los productos.
Examen PRINCE2 Agile Practitioner
 2.5 horas
Prueba Objetiva
50 preguntas
60% puntuación para aprobar
Libro abierto ( sólo el manual de PRINCE2 Agile)
Todos los candidatos que aprueben el examen recibirán un certificado electrónico de PEOPLECERT. Este certificado electrónico tiene características de unicidad, seguridad y su validez puede ser comprobada
Prerrequisitos
A partir del 1 de octubre de 2016, para realizar la certificación PRINCE2 Agile, los candidatos deben poseer una de las siguientes certificaciones:
PRINCE2 Foundation
PRINCE2 Practitioner
Project Management Professional® (PMP)
Certified Associate in Project Management® (CAPM)
IMPA Levels A,B,C and D® (Certified Projects Director).
El material del curso y el examen son en inglés, por lo que se recomienda una comprensión básica de este idioma.
Se proporciona material de estudio previo a la formación y se espera que se haya leído en su totalidad antes de asistir al evento.
Documentación
El evento incluye el siguiente material:
Precurso. El manual 'PRINCE2 Agile' se enviará antes del curso
Paquete para el curso PRINCE2 Agile Practitioner
Este material contiene un supuestos prácticos, ejercicios con sus soluciones, 2 exámenes Practitioner de prueba, consejos y sugerencias para realizar el examen Practitioner.
¿SABÍAS QUE?
Benefíciate de nuestra experiencia de más de 10 años en la formación de PRINCE2 a nivel mundial
Podrás prepararte de forma más eficiente con nuestra guía de estudio precurso disponible online
Obtendrás el manual oficial ' PRINCE2 Agile'
¡Ganarás hasta 21 PDUs y mantendrás tu certificación PMP!
¿Hay 2 o más personas de tu empresa interesadas en nuestra formación?Contáctanos para obtener un descuento
¿Necesitas adaptar el curso a las exigencias de tu organización ? Pregunta por una solución personalizada
Calendario de Cursos
QRP International organiza cursos acreditados PRINCE2 Agile Practitioner en Madrid y Barcelona
| Nivel | Duración | Idioma | Fecha | Ciudad | Cantidad | |
| --- | --- | --- | --- | --- | --- | --- |
5 Razones para seguir un curso PRINCE2 Agile Practitioner con QRP
1 +15 años de experiencia
2 +15.000 profesionales certificados
3 Mapa de Procesos PRINCE2
4 Guía de estudio y material precurso
5 Partner estratégico de Axelos
Testimonios
¡Es genial cuando nuestro trabajo habla por nosotros!
"Excellent PRINCE2 Foundation training by a trainer who "breaths" practical project management in different areas. Which gives this training a non-theoretical approach and full understanding in how to implement. Very good service of QRP : close guidance in how to subscribe, adapt to needs where needed, sending the course material upfront with clear recommendation on how to prepare the training itself. Excellent preparation towards the PRINCE2 Foundation exam"
Ronald Hermans
Digital Business Transformation @ Kunstmaan, Belgium
"Very, very useful, finally something simple, understandable and powerful! Thank you also to QRP and our Trainer"
Ladislav P.
IT Senior Consultant @ Itecor SA, Switzerland
"Useful and excellent PRINCE2 Foundation course and also the teacher was really professional"
Gaetano Della Cioppa
IT Infrastructure Architect @ Lottomatica S.p.A, Italy
MÁS INFORMACIÓN
Solicita una cotización
Si tienes alguna pregunta o te gustaría recibir más información, por favor no dudes en contactarnos a través de este formulario.