PRINCE2 2017: todo lo que debes saber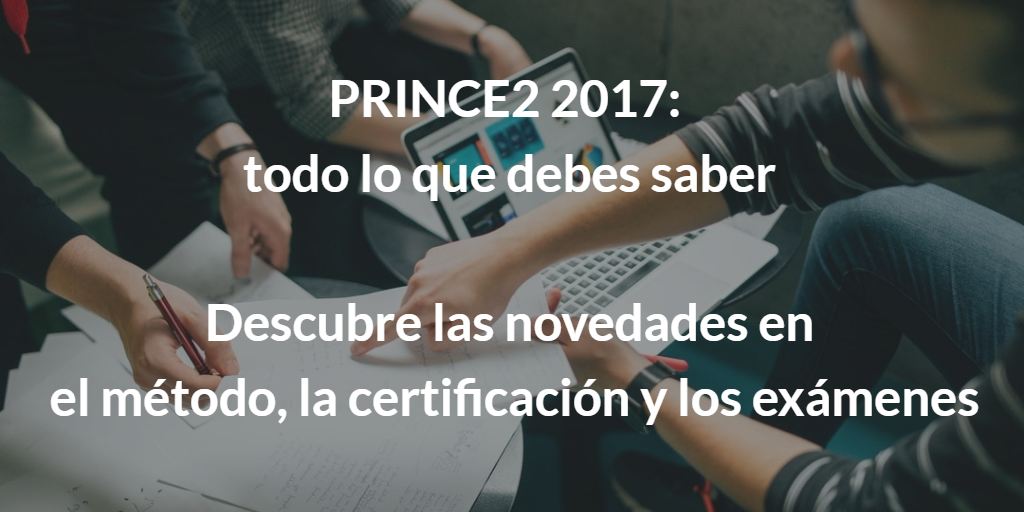 PRINCE2 ahora es un estándar para la administración de proyectos, con más de un millón de profesionales certificados sólo en los últimos diez años. Es usado todos los días por cientos de miles de responsables de proyectos de todas las áreas.
Pero, como se afirma en Business Reporter, en el artículo "Adapting to the changing workplace", "el papel de la gestión de proyectos está evolucionando para tener una mayor influencia e impacto dentro de las organizaciones, desde la estrategia hasta la implementación. Por lo tanto, es natural que PRINCE2, la metodología de gestión de proyectos más utilizada en el mundo, evolucione con la gestión de proyectos ".
Como la gestión de proyectos será considerada cada vez más una competencia empresarial, esto llevará a la demanda de una mayor profesionalidad dentro de la comunidad de los Project Managers. Esta es la razón por la cual PRINCE2 versión 2017 quiere pasar de la certificación a las habilidades.
¿QUÉ CAMBIOS HAY EN LA METODOLOGÍA?
PRINCE2 ahora pone más énfasis en adaptar el método a diferentes organizaciones y entornos de proyectos, independientemente de la naturaleza o el alcance del proyecto.
La edición 2017 responde a las necesidades de flexibilidad, versatilidad y agilidad de la gestión moderna de proyectos, por lo que cualquier persona que tenga un proyecto para gestionar, independientemente de si se trata de un responsable de proyecto a tiempo completo o no, encontrará que PRINCE2 será aún más fácil de adaptar a las necesidades de la organización.
Los conceptos básicos del método, como los principios, las temáticas y los procesos, permanecen sin cambios mientras se da énfasis a la adaptación: el capítulo de adaptación, que se encontraba previamente al final del manual, se ha re-elaborado y enfatizado al ' inicio del manual.
Los principales cambios se refieren a un mayor énfasis en las siguientes áreas:
La adaptación de PRINCE2 a las necesidades de las organizaciones y al entorno del proyecto;
los principios, la base de PRINCE2;
un mejor vínculo entre temáticas y principios;
la reorganización de la parte "Temáticas", para dar cabida a ejemplos específicos de adaptación;
aplicación práctica del método, con numerosos ejemplos, sugerencias y consejos.
¿QUÉ CAMBIOS HAY EN LOS EXÁMENES?
EXAMEN FOUNDATION -> El examen Foundation, que constaba antes con 75 preguntas, ahora tiene 60 preguntas. La duración continúa siendo de 1 hora, mientras que la puntuación requerida para aprobar el examen ha pasado del 50% (35/70) al 60% (36/60).
EXAMEN PRACTITIONER -> El examen Practitioner ha pasado de 80 a 68 preguntas. La duración se ha mantenido sin cambios, es decir, 2,5 horas. La calificación para aprobar el examen es 38/68 (aproximadamente 55%). Las preguntas clásicas de respuesta múltiple y de relacionar (2 columnas) permanecen, mientras que las preguntas con las respuestas más exactas posibles (2 respuestas correctas en 5 posibles respuestas) y las preguntas verdadero/falso se han eliminado.
LA CERTIFICACIÓN PRACTITIONER
Si estás actualmente certificado en PRINCE2 Practitioner, tu certificado es y seguirá siendo válido hasta su fecha de vencimiento.
¿Qué cambios para quién está certificado en la versión 2017?
Para mantener el certificado Practitioner, que ahora expira después de 3 años (no 5 como anteriormente), los candidatos pueden:
realizar de nuevo el examen PRINCE2 Practitioner (en la nueva versión)
o
decidir unirse al "PRINCE2 Membership Programme", una suscripción en línea a contenido, herramientas y recursos de Axelos para ayudarte a aplicar las mejores prácticas en tu trabajo. *
Todo lo que debes saber de la actualización de PRINCE2
En QRP International, nos esforzamos por brindarte toda la información que necesitas para comprender todas las novedades de la nueva actualización de PRINCE2.
A continuación encontrarás una lista de todo lo que puede encontrar en nuestro sitio, ¡solo tienes que elegir entre nuestras numerosas iniciativas y artículos de interés!
Evento presentación PRINCE2 2017 en Barcelona, el próximo 7 de noviembre a las 18h00. Inscríbete
Evento presentación PRINCE2 2017 en Madrid, el próximo 15 de noviembre a las 18h00. Inscríbete
Artículo de interés: ¿Cuál es el futuro para la Gestión de Proyectos? Comprender la versión 2017 de PRINCE2. Descárgalo ahora
El nuevo Mapa de Procesos de PRINCE2, actualizado a la nueva versión 2017. Descárgalo ahora
La nueva versión del manual oficial "Managing successful projects with PRINCE2". Adquiere ahora tu ejemplar
Nuestros próximos cursos en PRINCE2 2017
Todos los cursos en PRINCE2 de nuestro calendario oficial en QRP International en España se actualizan a la versión 2017. Nuestros cursos son en español, siendo el material y los exámenes en inglés.
Obtenga información acerca de los niveles Foundation, Practitioner y Combi. Estos son los próximos cursos de PRINCE2 2017 Foundation & Practitioner en Barcelona y Madrid:
*para conocer más detalles sobre el Membership Programme de Axelos, visita el siguiente enlace: https://www.axelos.com/professional-development